Ayurveda isn't just for adults. But because it has an exotic or foreign ring to it, it might sound as if it's too complex to apply to children. But the very fact that children are so simple and uncomplicated in their nature makes the application of it for kids easy. Once you understand the basic concept of Ayurveda as a natural, at-home remedy, even simple pleasure foods, like a cookie, can even become "medicinal" for your child.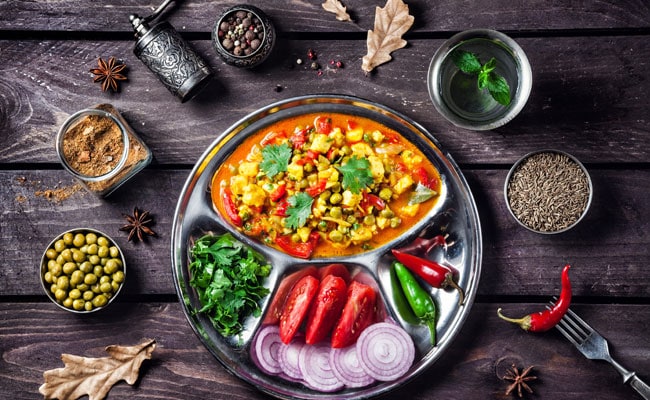 Using Ayurveda as a template for feeding your child doesn't mean the food has to be of Indian descent, nor does it mean it needs to be ethnic. Ayurveda is all about balance and bringing relief through balance. So if you have a hyperactive child with seemingly boundless energy and who's mind goes a million miles a minute, Ayurveda wants to bring calmness, solidity and a slowing down to this youngster. Easier said than done, of course. But the right food for a child such as this can and does represent these healing, opposite, and/or balancing qualities.
Depending on your constitution (and the constitution of your child), different foods will bring the best complement, or balance, for the healthiest state of mind and vitality. What follows is a simple chart for helping you identify characteristics in your child (and yourself) from an Ayurvedic perspective. Below you'll find a handful of specific foods, tastes and flavors that balance these constitutions. Read through each column to see determine which one sounds most like your child (or you!).
Try adding these healthful, tasty snacks to your child's routine!
Almond Butter Popcorn
balances vata and kapha, increases pitta
Preparation time: About 15 minutes
Serves 2 to 4
1/4 C Organic Raw Almond Butter
2 T Brown Rice Syrup or Coconut Nectar
1/2 tsp Cinnamon
4 C Coconut-Oil-Popped Popcorn
1/2 C chopped Raw Pecans or Walnuts (optional)
1/4 C Candied Ginger, minced (optional)
1/4 C Unsweetened Dried Cranberries or Raisins (optional)
In a large bowl, mix together the almond butter, liquid sweetner and cinnamon. Make it smooth and creamy. Pop your corn and while it's still hot, toss it into the almond butter mixture. Stir immediately, aiming to coat every popped kernel with almond butter goodness. Stir in the raw pecans and optional candied ginger and/or dried cranberries.
Easy Baked Tofu
balances vata, decreases pitta, increases kapha
Preparation Time: About 1 hour, 30 minutes
Serves 2 to 4
1 lb. Organic Firm Tofu (or sprouted tofu)
1 tsp Coconut Oil
1 tsp Bragg Liquid Aminos, Coconut Aminos or Wheat-Free Tamari (optional)
Wrap the tofu between 2 clean, dry cloth towels (or several paper towels) and set it on a flat surface. Balance a plate on top of the tofu and weight it down with something heavy to help drain excess water from the tofu block. Allow to sit for 30 minutes, repeat if necessary.
Preheat the oven to 400 degrees. Cube the tofu into 1-inch pieces and transfer to a large bowl. Melt the coconut oil over low heat on the stove just until melted. Toss the coconut oil and Braggs with the tofu and arrange the tofu on a cookie sheet. Bake for 20 minutes. Toss and turn the pan. Bake for another 15 to 20 minutes, or until the tofu cubes are golden brown and slightly crispy.
Sweet Potato Fries with Raw Ranch Dressing
decreases vata, balances pitta, increases kapha
Preparation Time: About 1 hour
Serves 4 to 6
Fries:
2 medium/large sweet potatoes, unpeeled, cut into 4-inch long, 1/2-inch thick fries
2 to 3 tablespoons melted coconut oil or ghee
1 teaspoon coarse ground Himalayan salt or Celtic sea salt
1 teaspoon ground cumin
1 tablespoon coconut sugar or brown sugar
1 teaspoon whole coriander seed
Fresh ground black pepper to taste
Ranch Dressing:
1/2 cup soaked raw cashews (soak for 30 minutes)
1/3 cup water
1 tablespoon fresh squeezed lemon juice
1 teaspoon nutritional yeast (optional)
1 teaspoon mineral-rich salt (like Himalayan salt or Celtic sea salt)
1 to 2 cloves garlic, minced
1/8 cup chopped fresh basil leaves or 2 teaspoons dried basil
1/2 teaspoon dried dill weed
Preheat the oven to 425 degrees. Soak the cashews in water while you prep the fries.
Cut then toss the sweet potatoes with coconut oil, salt, cumin, sugar and coriander until fries are well coated. Spread a single layer of fries out onto a cookie sheet and bake for 20 minutes. Turn the fries over, move them to the top rack in the oven and bake for another 15 minutes, or until the fries are golden brown and slightly crisp.
Put the remaining ranch dressing ingredients (aside from the cashews) into a blender or food processor. Add the soaked cashews and mix on high speed until the dressing is smooth and creamy. Add an extra tablespoon of water if the sauce is too thick. Serve together.
JUST SOME AYURVEDIC LUNCH IDEAS BELOW :  ENJOY!!!
#1 lunch should be the biggest meal
#2 eat happy and calmly
#3 meals should be warm
#4 fruit should be eaten alone 
#5 eating for the doshas will vary per kid
#1 Lunch is the biggest meal of the day. I mean, if the kid eats, you can pack a big enough meal. Or like most, they will be totally distracted by their friends that they will skip most of it and smoosh the rest back into the lunch pack. And they will come home starving (*shakes fist* anyone see how our eating habits can become backwards at a very early age?).
#2 Eat happy and calmly. She's happy for sure. But some only get 15 minutes for lunch (*shakes fist again*). No way can a child fit in a "big lunch" in 15 minutes.
#3 Meals should be warm. Little thermoses help this! Most of her lunch is room temp (which is better than from the fridge)
#4 Fruit should be eaten alone. Yes, yes it should. My daughter knows the rule, but will chow fruit however she pleases when I'm not around. We can't control how they combine their food.
#5 Eating for their doshas will vary. Depending on their dosha, some foods will benefit them more than others. Don't over think that at this point, just do the best you can. Here's what goes through my head for my pitta-vata kid, "She needs grounding/carb foods, a little protein, fruit, veggies, healthy fats and water." You can reference the dosha menus to see what foods in general work best for your kiddo, depending on their dosha.
Whattaya say is this helpful for you? If I confused the dickens out of you please let me know. AND! OR! If you have ideas to add, we'd all love a sharing of more great lunch ideas and recipes so feel free to share in the comments.
Keep bringing Ayurveda to life!